Virginia C. Sewell Obituary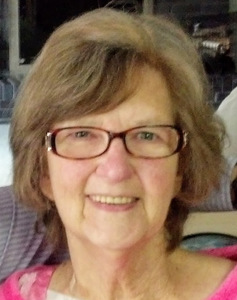 November 2, 1940
-
August 8, 2017
Born in Loveland, OH
Resided in

Jefferson

,

OH
Obituary
Virginia Carol (Watkins) Sewell

Virginia was born in her parent's home in Loveland, Ohio on November 2nd and 3rd, 1940. She had two birthdays because her mother always insisted the doctor put the wrong date on her birth certificate. For most of her life she celebrated on November 3rd but when the Federal Government insisted that she use the date on her birth certificate in order to collect her Social Security benefits November 2nd became her birthday. In Virginia's retirement years her daughter, Karen and grandson, Kyle teased Virginia about being twice as old because she had two birthdays every year.

Virginia was the second child of Nyale and Fern Watkins. In time three brothers and another sister joined Virginia and her older sister Judy. As a child she was called Jinny by her family which coordinated well with all of all her siblings whose names began with the letter "J"; Judy, Jerry, Jimmy, Johnny and Jackie. As an adult she told the story of the family's Christmas cards being signed; Nyale, Fern and the 6 "J's". As a young child Virginia spent many happy hours with her grandparents, Oscar and Icy Byus, at their boarding house near the rail yard. Virginia helped her grandparents do laundry and other chores every week for which she earned a small stipend. Virginia claimed she saved her earnings so she could buy special things for herself. It was in those early years that Virginia developed the strong work ethic that served her throughout her life.

Virginia married William Sewell in 1956 and together they had four children; Darlene Gwen, Kenneth Staman, Karen Sue and Douglas Wayne. The family moved frequently in the early lean years when finances had to be carefully managed to make ends meet. Virginia taught herself gardening and canning so she could put up the fruits and vegetables she grew and stock her cabinet with homemade jelly. She was very proud of the skills that helped her feed and care for her family. When the children were of elementary age the family discovered camping. They pursued the rugged outdoors regularly and mostly at their preferred destination, the Allegheny Mountains of Western Pennsylvania. It was there in the Alleghenies they pursued adventures in off-roading with their truck mounted camper, hiked across wilderness paths laden with pine needles and on occasion dodged a black bear or three.

Virginia balanced raising her family as she worked many different jobs. Her longest employment was with Premix Inc. operating a massive industrial press where she stamped out fiberglass products for use in homes and the auto industry. The work was hard but Virginia stayed with it and eventually advanced to a position in quality control. To strengthen her opportunities she attended a management training program at Kent State University and in time retired from Premix with a modest pension. After retirement she and her husband Bill, developed a passion for snowmobiling. Virginia and Bill were early leaders in lobbying the state of Ohio to develop and expand snowmobiling trails for public use. They participated in lengthy runs and attended "sledding" competitions in the U.S. and Canada. Following the death of her husband in 1996 Virginia turned her focus to learning the art of hand quilting. In just a few years she became an expert. She traveled to quilting shows and retreats in several states and earned a number of awards for her stunning and meticulously crafted bed quilts, wall hangings, table runners and other quilted items.

Virginia loved her children and felt so proud and fortunate that they all grew into independent and successful adults. Her children treated her very well and with each one she had wonderful experiences that enriched her life and expanded her world. She traveled to Hawaii, Bermuda, Mexico and across the lower 48 states with her daughter Gwen. She loved to visit with her sons Ken and Doug in Georgia and stayed with Ken in the home her sons built together. Virginia realized a lifelong dream when she and Ken cruised to Alaska and toured Denali National Park as well as several other sites in Canada and Alaska. Her daughter Karen introduced Virginia to cultural events and social settings that were exciting and a world of different from her previous life experiences. She attended concerts and professional performances in exquisite venues and met diverse people and experienced an array of cultures across years of special events and dining experiences. Virginia's youngest son, Doug, was a talented craftsman who designed and handcrafted a gliding bench and ottoman for her and used his many builders' skills to improve and maintain her house. Doug heartily supported and enabled Virginia's quilting excursions and helped her maintain connections to quilters throughout Georgia and other southern states. Each of her children provided Virginia with unique opportunities and experiences that broadened her life in improbable ways that could not be anticipated by an ordinary girl from Loveland, Ohio.

Virginia's children also blessed her with six grandchildren who she loved deeply. Steven, Eden, Ariel, Kyle, Daniel and Savannah gifted Virginia with the joy of grand parenting. In recent years her grandson Steven, further expanded Virginia's family with two perfect little girls whose very presence fills the space around them with the beauty and joy of life. Virginia was truly blessed by the family she loved and who loved her in return.

Virginia's recent years were plagued by poor health which stymied her mobility and tempered her independence. Never one to accept anything she did not choose she battled against her ailments and sometimes against her doctors when she did not care for their guidance. Famously stubborn she was always determined to defy the odds and forge her own path. Virginia rebounded several times from debilitating conditions through sheer force of will and with an abundance of help from her family and many good friends. She often spoke about how lucky she felt to have such kind hearted and generous friends. Vi and Dale, Sara and Dick, Margaret, Larry and Wanda, Shirley and John, Mary Jane, Barbara and many others who were willing and ready to lend a hand, give a ride , do a task or fix something that had broken made it possible for Virginia to remain in her beloved home of nearly 50 years. Virginia's children are enormously grateful to all of Virginia's friends whose helping hands allowed her to live the life she chose for as long as possible.

The greatest sadness of Virginia's life was the tragic and untimely death of her son, Doug, due to cancer. She, herself was ailing at the time and unable to travel to Georgia to say good bye or attend Doug's memorial service. With help from Doug's friends Virginia was able to watch the service via Skype in Ohio along side Doug's best childhood friend, her sister, Jackie, and her devoted son-in-law, Phil. The Skype transmission was an immeasurable gift from Doug's daughter's friend, a stranger to Virginia, at the darkest hour of her life.

The final year of Virginia's life was a circular pattern of health crises and rebounds. More and more difficult as time progressed, Virginia continued to receive thrice weekly dialysis treatments from the exceptional team of professionals at Center for Dialysis Care in Jefferson. Virginia never enjoyed the dialysis treatments but she had great affection for the team who cared for her. Kathy, Theresa, Jen, Gail, Tricia and the others who watched over her delivered Virginia the finest health care possible. Virginia met other patients and family members at CDC which she held in the highest regard. She admired and respected those she met at CDC for their strength and compassion and for their kindnesses and encouragement even as they navigated their own or their loved one's health hurdles.

Just two weeks before Virginia's passing she experienced a surge of energy which spiked her spirit and desire to get out into the community. She and her daughter Gwen went shopping for new shoes, cute summer outfits and a fresh pink lipstick. She looked especially spiffy in the days that followed. Another day excursion took Virginia and her daughter to four different parks along Lake Erie. They enjoyed watching boats and jet skis from a swinging bench at Saybrook Park and savored the view from Point Park which overlooks Ashtabula harbor, the marinas and the lighthouse. Their outing ended at beautiful Lake Shore Park where concession French fries beckoned and a resident peacock contributed to the beauty of the immaculately groomed landscape. It was a lovely excursion which Virginia recounted to friends and family in several conversations over the next few days. Virginia was an ordinary girl from Loveland who became an ordinary woman from Jefferson whose life abounded with extraordinary experiences and was awash in the love of her exceptional and devoted family and friends.

Virginia outlived her husband, Bill (William), by 21 years and her son, Doug, also preceded her in death in 2016. Virginia is survived by her daughters, Gwen Healey and Karen Ozan, and son in law, Philip; and son, Ken Sewell, and daughter in law, Carrie. Also surviving are grandson, Steven Ozan, his wife Jennie and their daughters, Riley and Morgan; granddaughter, Eden Clark and her partner Karl Witt, granddaughter, Ariel Clark, grandson, Kyle Ozan, grandson, Daniel Healey, and granddaughter, Savannah Sewell. Virginia is also survived by her sisters Judy Rottinghaus and Jackie Watkins and by her brother, James Watkins. Virginia was preceded in death by her brothers, Jerry and John Watkins, and by her parents, Nyale and Fern Watkins. Other survivors include several nieces, nephews and cousins. Virginia's internment is next to her husband, Bill, at Jefferson Township Cemetery in Westboro, Ohio.

A graveside service will be held on Saturday, August 12, 12 Noon at Jefferson Township Cemetery, Westboro, OH.

In lieu of flowers, memorial donations may be made in memory of Virginia Sewell to the Ashtabula County Community Action Agency, "Meals on Wheels," PO Box 2610, Ashtabula, OH 44005-2610.

Pallbearers for Virginia are: KEN SEWELL, PHILIP OZAN, STEVEN OZAN, KYLE OZAN, KARL WITT AND MIKE BOYLE.
Services
Cemetery
Westboro Cemetery (AKA Jefferson Twp.)
Jonesboro Rd.
Westboro
,
OH
US
45148
Service
Jefferson Township Cemetery
Jonesboro Rd.
Westboro
,
OH
US
45148
Charities
Ashtabula County Community Action Agency,
PO Box 2610
Ashbatula, OH US 44005-2610